Solomon's Sunrise
(SF$200 spring, very limited)

(Ansari 2017)
F012C (Victorian Garden Heavens Applause x Tully Mars) height 21 in, bloom 5.5 in or more, Sev, season EM, Rebloom, Tetraploid, BC14, BR 3. Ivory beige petals, very large violet plum and purple pattern eye, carried onto sepals, thin picotee edge, large green throat; very fertile both ways. Photos upper right (second) and bottom left (fifth) by Kirsten Hatfield in Ohio (after a very cold winter; its hardy); last photo by Jerry Pillow, in Arkansas; photos used with permission. Other photos are mine, first one taken outside. Solomon's Sunrise is named for a friend, Solomon Kahn, who died in a car accident in Thailand in 2012. You can read more about his life and memories about him on his mother's blog: DJ Solomon Kahn.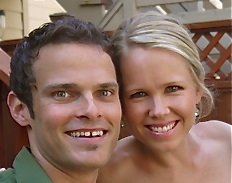 (Photo of Solomon Kahn with his fiancee, Nicole Cronin). A quote from Solomon's obituary on SFGate: "He didn't care about being cool or hip. His No. 1 goal was to make people happy."
Pat Stamile had a guest plant of Solomon's Sunrise. Here is his comment: "Solomon's Sunrise bloomed in the spring and was very nice and I set seed on it. However when it rebloomed it was absolutely spectacular. Everything seemed to improve on rebloom-size, patterning, branching. It was a wow."